Project report for UV printing - Flatbed printing
Introduction
The project report for Flatbed digital printer - UV printer is as follows:
Flatbed digital printers, also known as flatbed printers or flatbed UV printers, are printers characterized by a flat surface upon which a material is placed to be printed on. Flatbed printers are capable of printing on a wide variety of materials such as photographic paper, film, cloth, plastic, acrylic, glass, ceramic, metal, wood, leather, etc.). Flatbed digital printers usually use UV curable inks made of acrylic monomers that are then exposed to strong UV-light to cure, or polymerize them. This process allows for printing on a wide variety of surfaces such as wood or canvas, carpet, tile, and even glass. The adjustable printing bed makes it possible to print on surfaces ranging in thickness from a sheet of paper often up to as much as several inches. Typically used for commercial applications (retail and event signage), flatbed printing is often a substitute for screen-printing. Since no printing plates or silkscreens must be produced, digital printing technology allows shorter runs of signs to be produced economically.
---
Scope of the project
Why UV printing is superior to other forms of printing
Printing is an ancient form of art, and over the years there have been significant improvements on the technology used for printing. Today's advanced forms of printing include sublimation, laser printing and photo printing as well as UV printing. UV printing can hold numerous advantages over the other forms including:
Consistent, speedy prints- By using a UV LED printer for UV printing, consistent and accurate prints are achieved at a very fast rate. The ink cures, or solidifies in only a matter of seconds and so numerous images can be printed in a very short time. The fast curing of the ink also minimizes the risk of ink distortion before drying generating consistent and accurate images.
Durability- Studies have shown that UV printed inks are more resistant to scratch, wear rubbing and tear as compared to other eco solvent inks. The UV inks are also more resistant to harsh weather conditions making them more durable.
Vibrancy - Solvents in conventional inks absorb very quickly into uncoated stocks. Since UV inks dry when exposed to UV light, the inks do not have the time to soak into the paper. The ink is left sitting on top of the uncoated sheet, where it is less contaminated, ultimately giving more vibrant color.  Plus it can add clear ink to certain areas of the print to create a high gloss finish.
Environmentally friendly- During UV printing there is no release of volatile organic compounds into the air. There is also no odour and the ink is water resistant.
Costs – Vendors can save on their electricity bills and may pass the savings to you. UV printers use mercury/quartz or LED lights for curing instead of heat and can last up to 10,000 hours without using a lot of power.
Versatility- UV printing cures instantly and thus this form of printing can be used on many different materials. Unlike conventional means of printing which are limited to certain materials, there is a very wide scope of materials that UV printing can be used on.
---
Product / Services & process
Flatbed printing allows us to directly produce high-quality graphics on a variety of different material types and sizes. Materials once impossible for print–such as foamcore, aluminum, acrylic, wood, and even glass—can now be quickly and easily transformed by your design due to the advanced UV curing technology. Additionally, substrates that are too thick or rigid for traditional solvent-based digital print methods can be customized by our printer that can accommodate materials up to 6" thick. Virtually any flat surface (5'x8' in size) can be personalized to convey your unique message. Signage can be printed on the flatbed with incredible speed and detail thanks to the specific UV drying process. Your graphics will maintain their utmost fidelity for years, whether they are on POP displays, promotional products, one or two-sided signs, or more – the possibilities are nearly endless! While flatbed printing is perfectly suited for commercial signage (retail spaces, event signs, hospital instruction boards, window branding, etc), it can adapt to suit many custom projects, such as custom tabletop designs, instrument case art/branding, and stunning mirror and window images.
---
Raw materials / Consumables
UV LED Substrates Digital Flatbed Printer, The Flatbed printer can be used in the following surfaces
Solid Wood
solid wood is an easy printing material if surface is treated smooth by sand paper unless surface has groove face

Plywood
plywood has a similar to solid wood to print on the surface, but some needs pretreatment or primer depends on water absorbability like water based pigment or oil based varnish. Be careful with disadvantage of easy bending when printing

MDF
MDF made of saw dust is the easiest printing material but in case of white or varnish ink, it is recommendable to use primer due to its fast water absorbency

Glued laminated 
wooden panel combining glued pieces of wood uses as finishing material and recommends to treat surface with sand paper utilizing primer before printing

PB
not suitable for printing material since PB uses as mostly construction purpose which has already printed from manufacturer and not necessary to pretreat if surface is coated
METAL(UV/DT)
most metal can be printed but some coated metal is not compatible, so that pretreated metallicmaterial needs pretreatment like primer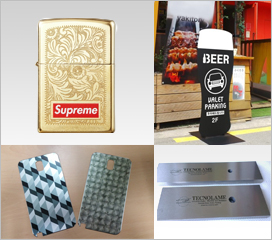 iron, stainless, brass needs pretreatment or after treatment like primer applying to plaque, equipment attachment or signage, advertising panel that is underharshest outdoor environment( rain, wind, high temperature, sunlight) 
D primer is appropriate but coating paint like mera coat will be more durable under natural circumstances
Substrates like aluminum, nickel silver doesn't need pretreatment since its surface is mostly not coated. Generally it is used for award template, but be careful when printing on anodizing coating, prints could be easily flake off.
PP (UV)
polypropylene is used for snack bag, baby feeding bottle, food container and recently tooth brush case. These substrates can be printed using PCM

PU(UV/SP)
Polyurethane is generated in different application, recently TPU(thermoplastic PU) called jelly case has a good compatibility without pretreatment and a good bondage. PU leather that fabricates well has a strong adhesiveness as well as popularity. U53H as soft UV ink or Argorink as a hybrid ink than hard one is more recommendable since PU material is not stable
ABS (UV/SP) 
ABS which is combined with AS polymer and rubber polymer irregularly is good for printing, generally SP ink or 53H ink would be appropriate. As a raw material of plastic case or injection products, sometimes ABS injection products which are not compatible because of its multi chemical mixture need to be cleaned off impurities
PC (UV/SP)
polycarbonate's application is various such as bullet proof film, plastic container, milk container, injection products but due to prevention of environmentalhormone, food container and baby feeding bottle is not permitted.Cell phonecase and other injection products has been used PC dominantly to print better than PP or PE due to less chemical reaction

PS (US/DT/SP) 
polystyrene is a soft plastic material, easy to break, but one of best plastic raw material for printing. Its characteristic, which its format is too soft and weak for natural environment(sunlight/UV) can change the formation or makes the crack after using the strong ink, so check there is any discrepancy after a week. SP ink or U53H is generally used and DT Ink for printing fastness

PVC (UV/DT) 
poly chrolidizedvynil is generally used in film, sheet, cosmetics, cap, resin material variously. PVC pipe for construction material and raw material for artificial leather was in common but plasticizer which arose anti eco-friendly environment makes the less applicable in production.
Even though PVC is not appropriate as a printing material, some pretreatment needed for good quality of printing and DT ink after heat pressure or UV ink. U53H for PVC leather or U53HF for wooden panel or hard PVC raw material after heat pressure

Acrylic (UV) 
Acrylic is strong on water, acid, alkaline but print won't stay longer. Thanks to improving technology of wood fabrication, many applications on Acrylic could be printed.
Among new fabrication of Acrylic or recycled one, we recommend to use new on since recycled one has a tendency of crack or defect and to clean off impurities to maintain the quality

Formax(UV) 
DT ink with slow speed or primer has been used for Formax printing since its format is easy to transform but not easy to print but UV using U53H without pretreatment can achieve the best quality and fastness( precaution of dust and anti-static )
Glass (UV) 
Generally exclusive primer to use on glass printing

Tempered glass 
tempered glass making flat glass by rapid cooling after lifting up to softening point is good for printing but weak adhesion. In order to perform best quality, use primer on surface or grind the surface and print on reverse side.

Crystal
Crystal is a common raw material of transparent glass. D primer than regular primer is more applicable to clean leftover mist on surface after printing. U53H ink is mostly in common for crystal plaque.
---
Plant & Machinery / Equipments
Technical Specifications
Print head:  8-16Konica Minolta or4-8Spectra Polaris Piezoelectric Print Heads
Print modes: Standard quality:Konica Minolta  55 sqm/hr(550 Square Feets)    
High quality: Konica Minolta  25.8sqm/hr  
Technology: Piezoelectric inkjet,UV-curable inks; 
Ink cartridge colors: CMYK,LC,LM,W,V; 
Ink types: UV-curable,pigment-based ink;
Ink cartridge size: 4liter(CMYK,LC,LM,W,V);
Rip software: Photoprint Flora Edition,Onyx(Optional);
Color managemet: ICC based color,adjustment curves,density adjustment; 
File formats: TIFF,JPEG,Postscript,EPS,PDF,etc; 
Handling: Flatbed,sheet feed,and ross feed with optiional Roll-to-Roll upgrade kit.True vacuum table,automatic media registration pin system for easy loading and accurate printing step.With optional pump blow make it easy to unload media 
Rigid media support:  Standard true flatbed table support rigid materials up 254x122cm,50kg/sqm; 
Roll-feed media support:  Optional Roll-to-Roll upgrade kit supports flexible media up to 250cm wide,with a roll diminsion 30cm,up to 100kg in weight;
Thicdness:  Up to 100mm;
Dimensions(lxwxh  )Printer:  480x260x144cm;Shipping:500x216x150cm;
Weight:  1600kg.
Temperature:  20to30°c;
Maximum:  7500watts; 
  Speciality inks for glass,acrylic,vaccum forming&more.
---
Market potential & Strategy
Double-Digit Growth Projected for UV Inkjet Printing Market to 2018  . The UV inkjet printed products market sector is forecast to grow 18.3% and reach $15.9 billion by 2018.
UV inkjet printing is gathering momentum and growing across the world, according to a new market report from Smithers Pira. The instant curing and durability offers significant technical, economic and environmental advantages for many applications. The Future of UV Inkjet Printing to 2018, a new study from Smithers Pira, provides quantitative market forecasts for the next five years, by region for all major end-use markets, with specific focus on equipment, inks and substrates. UV inkjet printing has a variety of uses, including signage, labels, commercial print, security and packaging. It is also used in textile printing on canvas, in the promotional item sector, decoration and industrial manufacturing. Of these, packaging and labels are the fastest growing, with security and signage at the bottom of the list, yet still exhibiting strong growth. Signage was one of the first applications for UV inkjet and was well established, while many security print applications are being subsumed into labels and packaging rather than as standalone products. The volume of labels, which includes overprinting, is forecast to increase significantly over the next five years. As metallic inks come onto the digital labels market, more brands can be printed digitally, opening more opportunities.
Technology is developing rapidly on both the printing and ink fronts. Quality has greatly improved through better design and integration with the inkjet artifacts of lines. Equipment suppliers are taking advantage of improvements in heads and making a very broad range of printing systems for specific applications. Technology developments have enabled the success of new applications, including spot UV varnish, new digital embossing and braille printing sectors. There are also many bespoke printing and decorating systems used in packaging lines and as part of manufacturing processes to decorate and identify components and products.
---